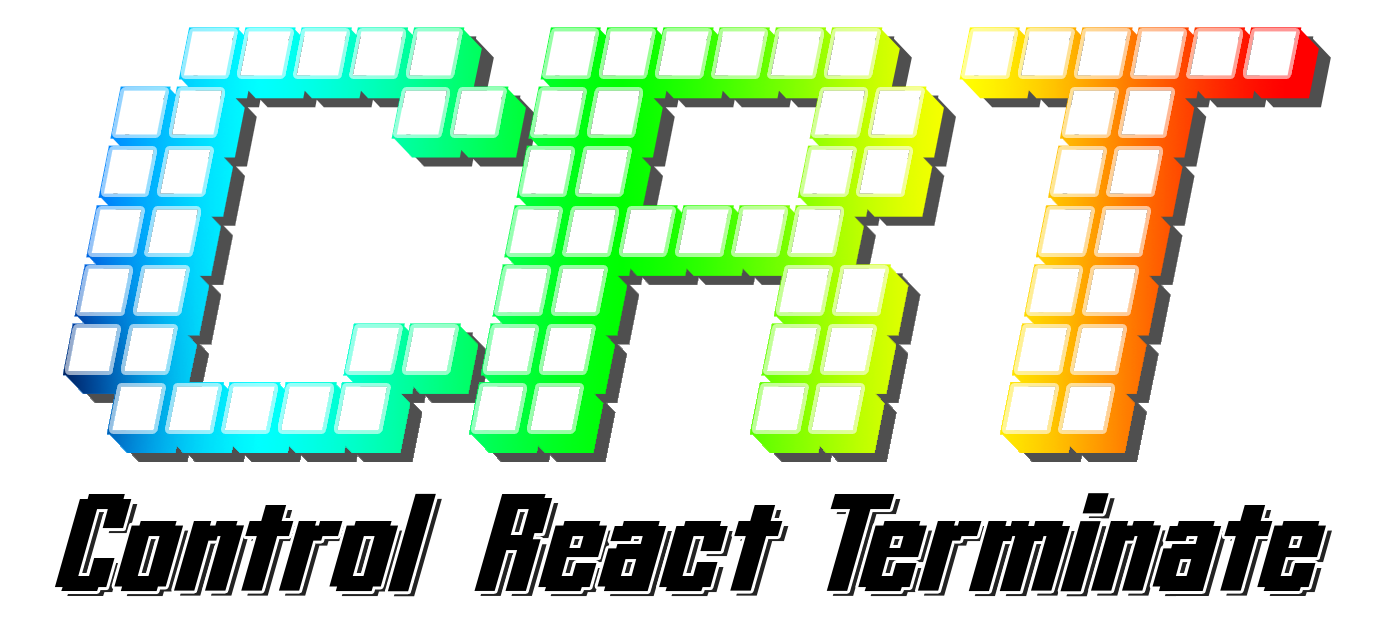 CRT: Control, React, Terminate
PLEASE PLAY FULLSCREEN FOR THE BEST EXPERIENCE!
HEADPHONES RECOMMENDED!
This games was made by five 4th-year Game Design and Development students, from The Netherlands, at the InnoGames Jam at Gamescom 2016. It was made in 48 hours. The theme the gamejam gave us was masks.
Story:
In a dystopian future ruled by robots, who worship their leading Bossbot as if it's some sort of godlike being, you are part of a human resistance group that fiercely combats this mechanical status quo.
You are tasked with taking out the electronic leader by mingling in with the crowd at a digi-religious rally. But the Bossbot knows he's being targeted. He'll send out scanwaves that will alert everyone if a human presence has been detected. You can avoid this scanwave, however, by pretending like you're one of the crowdbots. You do this by putting on a colour-changing visor, since the worshiping has taken on the form of colour-changing frenzy. Put on the right colour before you're hit by the scanwave to remain undetected.
Controls:
The only buttons you'll need for this game are W-A- S-D. Each letter corresponds to a different colour on the visor.
W – Red
A – Green
S – Yellow
D – Blue
When Bossbot sends out his coloured scanwaves, both the crowd, the Bossbot's eyes and the scanwave itself will project the colour you'll need to pick to remain undetected. Press the right button at the right time to automatically advance towards the Bossbot. But beware, the closer you'll get, the faster you'll need to react to the scanwave!
Reach Bossbot to push his self-destruct button with E to win! But get detected, and it's game over!
The Team:
Julia van den Berg: Art
Patrick Blaauw: Programming, Version control, Merge specialist
Anneke Hogenbirk: Modeling, Animation, Audio
Ramon Kok: Modeling, Texturing, Game Design, Scrum-master
Niels Tromp: Game Design, Modeling, Animation
| | |
| --- | --- |
| Status | Released |
| Platforms | Windows, HTML5 |
| Release date | Aug 19, 2016 |
| Rating | |
| Author | GAMIE64 |
| Genre | Action |
| Made with | Unity |
| Tags | crt, Game Jam, gamescom, igjam16, innogames, innogames-jam-2016, reaction, Robots, Sci-fi |
| Asset license | Creative Commons Attribution v4.0 International |
| Average session | A few minutes |
| Languages | English |
| Inputs | Keyboard |
Install instructions
Although the browser version plays fine, this is for people who want to play it on their desktop, or while offline.
Unzip the files in the RAR-archive, and make sure the folder and executable are in the same directory. Then just open the executable.